Frequently Asked Questions
Q. What is the check-in and check-out time?
A. Check-in starts from 14:00 - until 00:00 and check- out starts from 07:00 - 10:00.
Q. Can we be picked up at the station?
A. Yes. We can pick you up at either JR Nikko or TOBU Nikko station. Please inform us at least 1 day before you arrive by e-mail or telephone. And please be sure to state date, name, which station and arrival time.
You can request a shuttle service from here!
Q. Is there any Nikko attraction in walking distance area?
A.
・Nikkō Tōshō-gū (5min.)
・Sanbutsu-dō Temple (5min.)
・Futarasan Jinja (10min.)
・Taiyū-in Temple (10min.)
・Kosugi Hoan Memorial Nikko Art Museum (5min.)
・Shinyo Bridge (7min.)
・Nikkō Tōshō-gū shrine Museum (6min.)
・Treasure Museum of the Toshogu (10min.)
Q. Can we use the credit card?
A. Yes, guest can pay with either cash or credit card.
You can pay with Visa, Master, JCB, American Express, UC, and Diners.
Q. How can we reserve the private family hot-spring?
A. Staying guest can use the private hot-spring with free of charge.
We take a reservation at the front desk. (Opening hour is between 15:00 ~ 25:00. )
Q. Do you have a daily menu ?
A. The long term bookers can enjoy the different menu for dinner and breakfast everyday. To eat breakfast and dinner at the hotel, please make a reservation in advance. For children's meals a reservation needs to be made at the time of booking.
✳︎Please note that restaurants around the area are limited and may close early in the evening. Dining options may be difficult to find after this time.
Q. I have a tattoo. Can I enter the public bathing area?
A. Please note that guests with a tattoo may not be permitted to enter public bathing areas and other public facilities. If it's small one, you can cover with a tattoo sticker. You can bring one by yourself or we provide B6 size with 150yen per sticker.
Q. Can we request a non-smoking room?
A. Non-smoking rooms are subject to availability. If you wish a non-smoking room, you may get a room where smells are neutralised using a deodorising spray.
Q. Can you keep our luggage if we arrive earlier?
A. Our Check-In time is 14:00pm. If you choose to arrive earlier. We offer to store your luggage.
Q. How long does it take to Nikko Toshogu Shrine from your hotel?
A. Nikko Toshogu Shrine is located only 400meters from Nikko Tokanso. You can walk from our hotel to World Heritage site. Our staff will be glad to offer you a map of the area.
Our new member on board!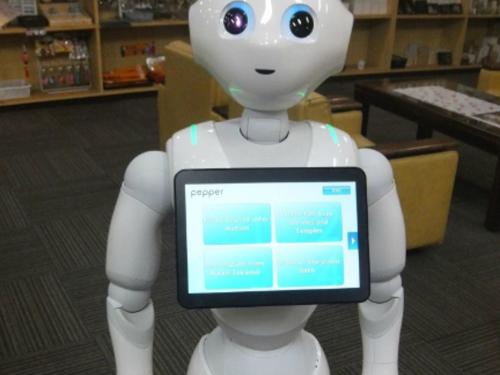 Please welcome our new concierge: Pepper kun.
He is very nice and has high hospitality!
Please Say "hi" to him when you visit us.